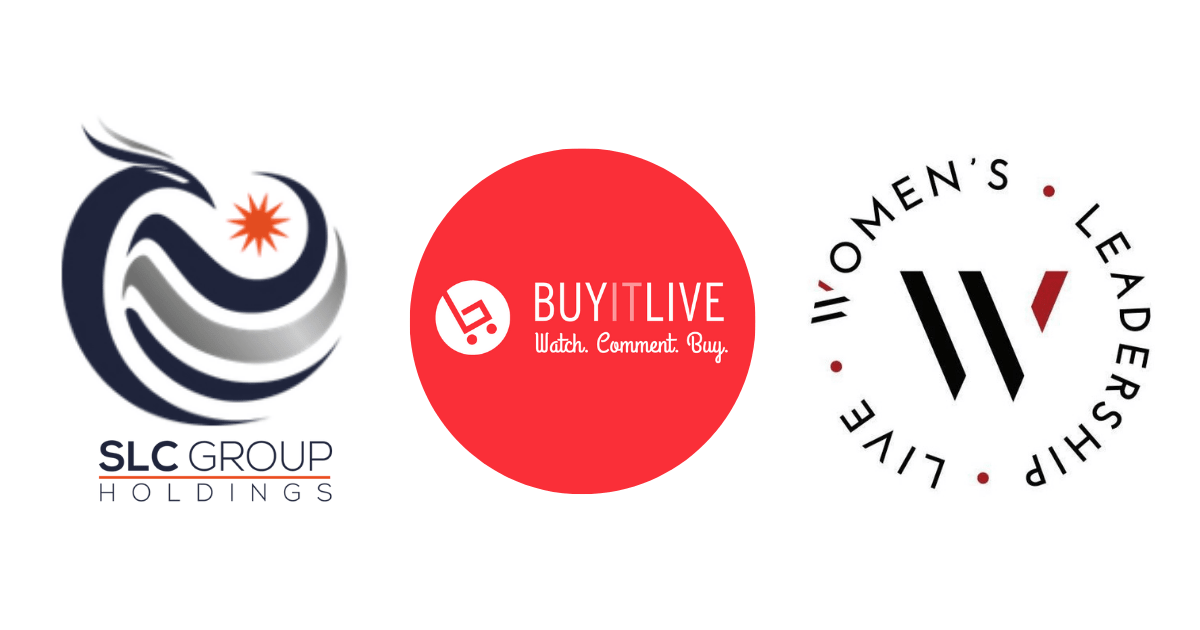 Press Release SLC, BuyItLive, Women's Leadership LIVE
SLC Group Holdings is proud to announce a strategic seed investment in up-and-coming social commerce start-up BuyItLive.

The BuyItLive technology completely reimagines the social commerce customer journey and checkout flow, resulting in massive increases in social engagement and significant improvement in sales conversions. Customers interact, shop & donate through live video, pre-recorded video and social posts across Facebook, Youtube and Instagram with additional social experiences in development.

The transaction is part of a larger comprehensive deal, between three visionary organizations - BuyItLive, Women's Leadership LIVE (WLL) and SLC Holdings. The three groups are aligning their offerings to give small and medium size businesses the edge they seek in a world of ecommerce titans.

Stacey Schieffelin, one of the founders of WLL enthuses, "BuyItLive is the next big, big thing in social commerce. Today's most valuable companies are successful in building and managing platforms: digitized, open and participative business models that create connected ecosystems of producers, influencers and consumers."

BuyItLive is equally eager about the new partnership.

"For us Sandy and her team at SLC Group are the perfect strategic fit," said Meghan Stubbs, co-CEO (with her co-founder husband and programmer/inventor Brett). "Sandy understands the heart and the mind of the small business entrepreneur. She fully grasps the grit and sticktoitiveness required to be successful. She gets it!"

Meghan continues, "Most of our customers are small businesses too. We quickly recognized that Sandy wasn't looking at her investment in BuyItLive as just another investment. She is someone who wants to amplify her impact and help thousands of entrepreneurs. It's in her DNA, and we love it."

Together, BuyItLive, WLL and SLC Group are developing a full suite of solutions and services, where entrepreneurs and their companies can receive live sales training, social commerce education, small business lending and investment, all while being equipped with the BuyItLive technological toolset and cart system to realize their goals for growth and revenue.

About SLC Group Holdings: Twenty-five years ago, SLC Group Holdings founder & CEO Sandy Cleary left her career as an aerospace engineer to follow her passion and start a cruise travel agency in her mother's basement. She grew that business into one of the largest sellers of cruises in North America with more than $135 million in annual cruise volume.

About BuyItLive, Inc: BuyItLive is built around a patent pending platform technology specifically tailored for selling on live video. It creates a competitive live shopping queue, that tracks interactions and carts for a live sale. Buyers can add items to their carts in the background with comments, or they can enter our proprietary live shopping party. The team is building a robust social commerce offering and suite of services to augment and build on the core technology. BuyItLive's founding team has a rich history of building the best viral marketing campaigns in the history of e-commerce. They have built a revolutionary tool that encourages brands to connect with their followers by allowing them an interactive shopping experience without removing them from social engagement.

About Women's Leadership Live: Women's Leadership LIVE's mission is to reflect and amplify the voices of career and entrepreneurial women. The founders of Women's Leadership LIVE, Linda McMahon, Stacey Schieffelin and Debbie Saviano have each built their own successful companies. They represent business success at the multi-million and billion dollar levels in the product, service, entertainment and media industries. At the heart of Women's Leadership LIVE is the commitment to providing our members with a DIFFERENT experience, whether you are attending one of our conferences, listening to one of our dynamic webinars or putting into practice the knowledge you have gained. Women's Leadership LIVE can equip you with tools to realize your unique purpose and potential.